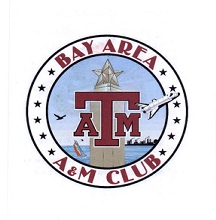 Welcome!!
The Bay Area A&M Club serves those in the Clear Lake/Bay Area of Houston.  We hold monthly luncheons with a wide variety of speakers and topics, game watching parties, socials and Muster.  If interested in joining the club please feel free to contact any of the Officers. Remember that you don't have to be a Former Student to be a member. Anybody can join.
Sign up for our email newsletters on our contact us page to stay connected.
Check out our upcoming events page to see what we're doing this month.